Biography in English
Biography in English
Tuuli Takala is a soprano from Helsinki, Finland, celebrated for her 'luscious voice' (HBL), 'captivating stage presence' (Helsingin Sanomat) and her 'rich timbre and brilliant, secure coloraturas' (Opernwelt Magazine). She is one of the most successful Finnish singers of her generation both in Finland and abroad, emerging as one of the most exciting international talents of her day. As of the 2017-18 season she is a member of the ensemble at the renowned Semperoper in Dresden, Germany.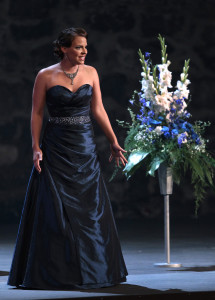 Tuuli made her professional operatic debut in the Finnish National Opera in 2013 as the Queen of the Night in W.A. Mozart's Die Zauberflöte. This role has grown to be one of Takala's signature roles, which she has performed around the world (Deutsche Oper Berlin, Dresden Semperoper, Komische Oper Berlin, Klagenfurt, Essen, Toulon, the Finnish National Opera, Savonlinna Opera Festival et al.). In addition to the Queen of the Night, Takala's celebrated roles include Susanna (Le nozze di Figaro) in the Finnish National Opera as well as Gilda and Zerlina (Savonlinna Opera Festival & Semperoper Dresden). In 2015-17 Takala was a member of the 'Young Ensemble' (Junges Ensemble) of the Semperoper Dresden.
In the current season 2017-18 Tuuli will perform at the Semperoper in the roles of Gilda (Rigoletto), the Queen of the Night (Die Zauberflöte), Olympia (Les contes d'Hoffmann), Blonde (Die Entführung aus dem Serail) and Marzelline (Fidelio). She will also repeat her portrayal of the Woodbird in Wagner's Siegfried under Christian Thielemann. As the Queen of the Night Tuuli will return to the Deutsche Oper Berlin, and make her house debuts at Essen and Toulon, France. In early 2018  she will return to Finland to create the role of Amanda Rossi in a new, Finnish opera, Veljeni vartija (My Brother's Keeper), by Olli Kortekangas, which will see its world premiere in the Tampere Opera. The piece is set in 1918, commemorating 100 years from the Finnish Civil War. In the summer 2018 Tuuli will end her season by returning to the Savonlinna Opera Festival in a role debut as Marguerite in Faust (Gounod).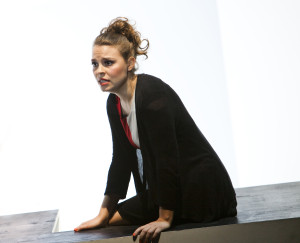 Tuuli is a prize winner in various international and national singing competitions. In July 2013 Tuuli won First Prize in both the Timo Mustakallio singing competition and the Kangasniemi singing competition in Finland, and in April 2013 she was a finalist and the Arnold Schönberg Center Special Prize recipient in the 8th International Hilde Zadek singing competition in Vienna, Austria. In July 2015 Tuuli was a finalist and prize winner at the 34th International Hans Gabor Belvedere singing competition in Amsterdam. In 2014 Tuuli was named Young Musician of the Year by the Pro Musica Foundation in Finland.
Tuuli received her education (Master of Music) at the Sibelius Academy Opera Program in Helsinki, under the guidance of soprano Ritva-Liisa Korhonen. These studies have included performing as Fiordiligi in Mozart's Così fan tutte and as La Contessa di Folleville in Rossini's Il viaggio a Reims. Previously Tuuli has studied singing and vocal pedagogy at the Helsinki Metropolia University of Applied Sciences (2011-2014) and music education in the Sibelius Academy, from which she holds a Bachelor of Music degree.
In addition to opera and musical theater, Tuuli is an active performer of lied and oratorio music, and is a sought-after concert soloist. She has held song recitals and concerts all around Finland, as well as abroad in London, Vienna and Tokyo. Tuuli has performed as the soprano soloist in various cantatas, the Christmas Oratorio, St. John Passion and Mass in B minor by J.S. Bach, in Händel's Messiah, Vivaldi's Gloria and in Mendelssohn's Elias, with the Finnish Baroque Orchestra among others. She has also been heard as a soloist with many prominent Finnish choirs and orchestras, in works such as Requiem and Exsultate jubilate by W.A. Mozart, Brahms's Ein Deutsches Requiem and Poulenc's Gloria.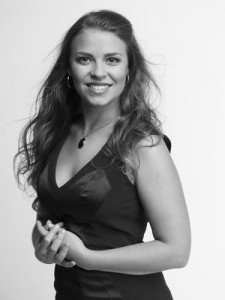 Tuuli was born into a musical family in Helsinki, Finland in 1987. She began her musical education at age 5 with the violin, which remained her main instrument for almost 15 years. Since she was 6 years old she also sang in various choirs, including the renowned Tapiola Choir and the EMO Ensemble. Because of her broad and versatile background and studies in music, Tuuli is at home in both classical and contemporary music, as well as in the world of pop and jazz.
Tuuli's studies, development and artistic work have been generously supported by the Jenny and Antti Wihuri Foundation, the Pro Musica and the Sibelius Academy Foundations, as well as the Helsinki Svenska Teatern.
© Please contact tuulitakala.com before reproducing this biography. All details correct and current at October 2017.